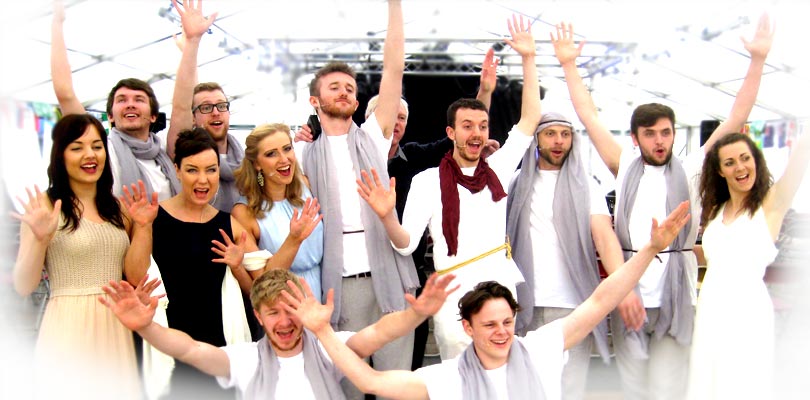 ABOUT RISEN! May 2015
This was the  first stage production of Risen!- The Musical performed by a professional cast- the London Touring cast made up of alumni and forth year students from the London College of Music and directed by LCM Lecturer Niamh McGuckin.  The Show took place in a Marquee in Coventry's Broadgate Centre and was produced by the Coventry Pentecost Festival. 

I will use extracts from the Risen! blog to tell the story behind this production
Blog March 27th 2015
The Risen! CD was mastered by Andrew Bourbon, a Senior Lecturer at the London College of Music (LCM) which is part of the University of West London based in Ealing. Andrew was so impressed with the show that he told his friends in the Performing Arts Department. I met one in London, Niamh Mcguckin, who Lectures in Voice (which means singing too) and she too was so impressed that she has taken it upon herself to form a cast from LCM students and post -graduates together with fellow professionals. She has acquired the use of the LCM facilities (which are amazing) for rehearsals and intends to have a least 10 rehearsals on Wednesdays and Sundays before the Pentecost production. LCM students have aspirations of performing in the West End so this cast will be amazing

Blog May 21st 2015
Saturday May 23rd and Risen! The Musical premiers at the Coventry Pentecost Festival 7.30 pm at Broadgate. My great mate Darren Bovis- Coulter and his friends in the Hope Coventry team have done an amazing job in organising a whole weekend of great events culminating in the first production of Risen!- The Musical.

I cannot speak too highly of the fantastic cast that will be journeying up to Coventry from London. They have been rehearsing like mad – I saw them rehearse the first ACT of Risen! last Sunday and it was brilliant.

Here is a comment from one of the organisers:

"Risen! – The Musical" was a wonderful climax to the Coventry Pentecost Festival -we were treated to an uplifting portrayal of the story of Holy Week to Pentecost through amazing songs, word, action and dance by a highly professional team who conveyed the hope of the Gospel very powerfully. We felt truly blessed and privileged to host the premiere of this inspirational musical, and everybody I spoke to was blessed by it. We wish you all God's blessing in the future, and that "Risen!" will bless many thousands of people in the months to come.
CAST
Jesus – Mikey Wooster
Mary Mother of Jesus – Niamh McCuckin
John- Andrew Dovaston
Mary Magdalene- Jodie Quirke
Peter- Kieran Lawson
Mary sister of Martha and Lazarus – Claire Hutchinson
Thomas- Adam Valentine
Mary wife of Clopas – Leah Godbold
James- Johnny Fitzharris
Cleopas- Benny Bright
Cleopas' friend- Coby Collins
Judas – Ennio Ficiur
Director: Niamh McCuckin
For more details of these individual events please visit the individual links: